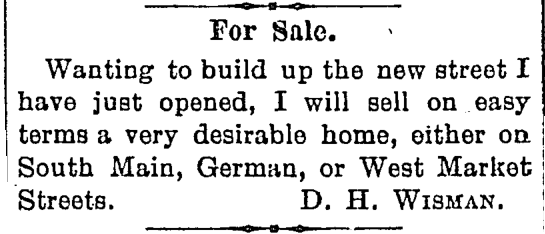 rr-1900-11-02newstreetopen.png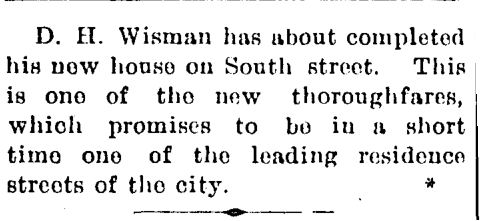 rr-1903-2-14buildhousesouth.png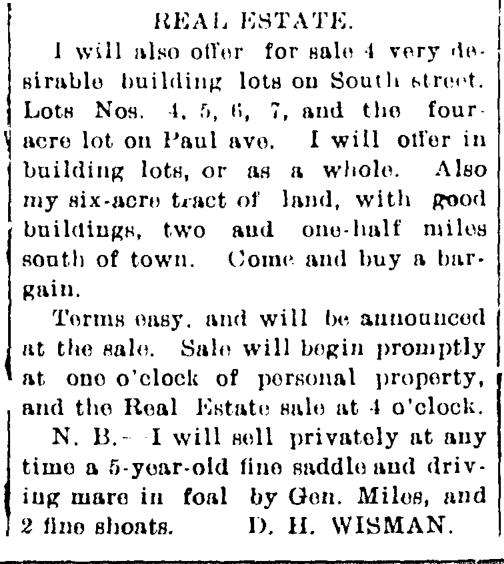 rr-1903-3-14wismansouthlots.png


1903_5_2_neworsouth.png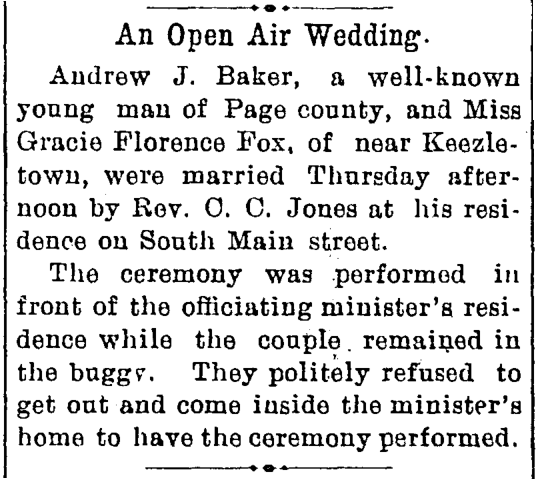 rr-1903-5-26aka6-02p3jonessmain.png
Sept. 22, 1903: South or New Streets (Wisman to Harris)


Nov. 6, 1903: New or South Street (Wisman to Dr. James H. Harris)
1903_11_20_neworsouth.png

1903_11_10_south.png
Nov. 18, 1903: South or New Streets (Wisman to ?)


rr-1903-12-29aka1-1-04p3jonescentral.png

THIS DEED, made this 14th day of March 1904, by and betweenDaisy Rebecca Dull , and
G. M. Dull her husband of the first part and Elizabeth Ott Taliaferro, of the second part,
all of the town of Harrisonburg,Virginia, WITNESSETH:- that for and in consideration of
the sum of two hundred and ninety dollars ($290.00) cash in hand paid,the receipt of which
is hereby acknowledged,,have granted,bargained,and sold,and by these presents do grant,bar
gain,sell and convey,with general warranty of title unto the party of the second part all
of that certain lot lying on South or New Street,in the town of Harrisonburg,virginia,
beginning at a stake on the south side of said street,565 feet from corner of Wh/isman's lot
on South Main Street,and running in a southerly direction with Wisman's line 134 feet to an 
alley,thence along with said alley in an easterly direction 48 feet 3 inches, thence in a
northly direction ot said south or New Steet,thence in a westerly direction 48 feet 3 inches
to the beginning, and being the same lot conveyed to Daisy Rebecca Dull by D.H.Wisman and
wife by deed bearing date the first day of April,1903,and recorded in the Clerk's Office of 
Rockingham County,D. B. 70 page 179 to which reference may be had.
   Witness our hands and seals the day and year first above written.
1904_3_14, Harrisonburg Town Deed Book 72, p. 356 [note the errors, preserved].

1904_3_25_cantrell.png
March 26, 1904: South Street or Cantral Avenue (Wisman to Emma Staples)


March 26, 1904: South street or Central Avenue (Rockingham Register)
1904_3_26_southorcentral.png

Deed Book 72, p. 255 [Old South High] April 7, 1904: East South Street or C(e)antral Avenue (Staples to Dovel) ** originally written as "Central" but later corrected by hand to "Cantral"
1904_4_7_eastsouthorcantrell.png

May 3, 1904: Cantral Avenue (city council minutes)
1904_5_3_cantral.png


May 3, 1904: Cantrell Avenue (Rockingham Register)
1904_5_3_cantrellRR.png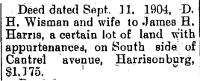 Sept. 8, 1904: Central Ave. or South St. (Wisman to Harris)
1904_9_23_cantrel.png

Oct. 4, 1904: Cantral Avenue (city council)
1904_10_4_cantral.png

Oct. 4, 1904: Cantrell Avenue (Rockingham Register)
1904_10_4_cantrellRR.png

Jan. 28, 1905: East South Street or Cantral Avenue (Dovel to Hooke)
1906_1_3_eastsouthorcantrellDN.png
Feb. 13, 1905: Cantral Avenue (Wisman to Wharton)
Nov. 10, 1906: Cantrel Avenue (Hooke to Rolston)

1907_1_8_cantrel.png
May 13, 1908: Cantrall Avenue (Rolston to Harris)
Related to Water Street Stables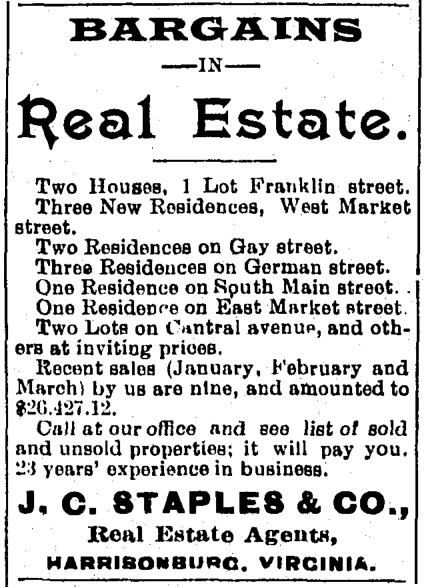 1905_3_21_staplescantralDN.png

1910_4_5_cantrel_lee.png

1916_3_15_garbercantrel.png
Daily News agreeing with Rockingham Record

1904_4_12southorcentralDN.png